Administrative Assistant Resume
As technology has advanced drastically in last few decades, the duties of the secretary in this course have changed. The term "administrative assistant" is quite closer to the actual duties of these employees. An Administrative assistant is a broad job category where an individual provides any kind of administrative support to people and groups in business or service sector. Here are some administrative assistant resumes that highlight all the credentials of the concerned job applicant in different organizations. The visitor is free to refer, edit and customize these sample templates as per the required skills, qualifications and experience for the concerned job application.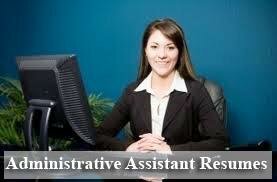 The Department of Labor of United States has an entry of administrative assistants and their described duties. According to this department's entry, Administrative assistants are responsible for a variety of clerical and administrative duties, which are necessary to run an organization efficiently. Admin assistants serve as communication and information managers for an office. They plan and schedule appointments and meetings, organize and maintain paper and electronic files, manage projects, conduct researches and then disseminate information by using the telephone, web sites, mail services and e-mail. They may also handle travel and lodging arrangements for the guest. But practically speaking, duties of administrative assistants are much broader than specified in Labor department's columns.
All offices look the same on the surface however, each office is different. The office often is influenced by the industry it serves. Some offices are quite casual with regards to the work atmosphere, for example a film maker's office. On the other hand, some offices are strictly formal in their work culture, for example a software company's office. A good administrative assistant should intimately know how a specific office functions, as he has to work with that view.
If the administrative assistant is the boss' primary assistant, he has to type and compose part of his supervisor's correspondence, attend many calls and keep his/her boss' appointments up to date. An administrative assistant is served best by a commerce college degree, but a sharp person who has completed high school and is technologically savvy and has good communication skills could also do the job. He or she will need a thorough knowledge of office software e.g. MS Office and general computer usage. The administrative assistant doing a secretarial job must know how to operate multi-line telephone as well.
we provide different types of sample resume for administrative assistant, here. You can find number of different resumes for different posts. You may choose any one of them you find appropriate for your profile. As these sample administrative assistant resume are in a generalized form, you will have to edit the details mentioned in the resume with your personal details, qualifications, skills, job experience and other credentials. For example: name, address, educational qualifications, computer knowledge, etc.
As said above, here you will find diverse administrative assistant designations. Click this from bestsampleresume to get more such resume examples. These administrative assistant resumes have been made available to you absolutely free of cost. We hope that these sample resumes will help you in fetching a good job in an administration department in the industry you are interested in. We also wish you Best of luck, for drafting your resume to move ahead with your job search.